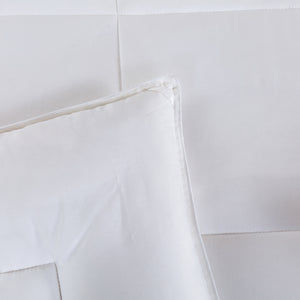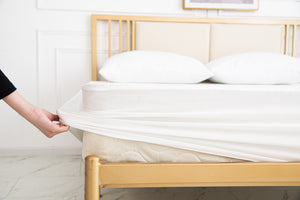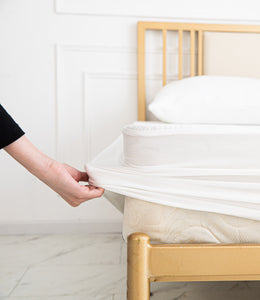 Kamboo

™ 

Pillow

, 

Mattress Protector & Pillow Protector Warranty

At EcoComfort Collection, your Kamboo™ Pillow, Mattress Protector & Pillow Protector will be replaced without any cost to you. If it is due to the waterproof barrier or fabric of the product fails due to faulty workmanship or structural defects in the course of normal usage subject to the limitations and conditions described in this warranty.
This warranty does not cover or apply to:
Normal wear and tear, normal everyday soiling or commercial use.
Protectors that are not handled per laundering instructions, or that are commercially laundered.
For Kamboo

™ Pillows, please note that the laundering instructions only applies to the Bamboo Pillow Protector encasing the pillow.

Stains caused by grease, inks, cosmetics, bleach, alcohol, dyes, solvents and corrosives.
Odors accumulated and long term multiple unknow stains, pet damage, stains caused by the build-up of perspiration, hair or body oil and normal soiling from everyday use.
Length of Warranty:
The duration of the warranty is 10 years from the date of purchase and receipt must be kept for proof of purchase and date. An order number can be provided if purchased directly from our online store. If a defect in your protector results in damage to your pillow or mattress, your pillow or mattress will be replaced at our discretion.
Mattress & Pillow Protector Care Guide:
Our EcoComfort Collection Pillow & Mattress protector must be installed properly covering the entire pillow or mattress top and all sides with the elastic banding recessed correctly and smoothly under the mattress.
The product must be laundered according to the label attached under your EcoComfort Collection mattress protector or inside your EcoComfort Collection pillow protector.
Kamboo™ Pillow, Mattress Protector & Pillow Protector Warranty
10-Year Limited Warranty
For Kamboo™ Pillow, please note that you can only wash the Bamboo Pillow Protector encasing the pillow, otherwise warranty will be voided on the pillow.
Dry with other bed linens, or towels, not alone. Dryer setting must be set no higher than low heat temperature setting, air drying is preferred.
Do not iron or use high heat to dry your protector.
Do not use cleaners containing solvents or bleach. Do not use strong detergents or fabric softeners as all of these can damage the waterproof barrier of the protector and will void this warranty.
Do not use a damaged protector on your mattress as this will void warranty.
Make sure your protector is dry before replacing it onto the mattress.
Important Warranty Information:
All shipping costs are the responsibility of the purchaser.
Must provide order number or receipt as valid proof of purchase.
Register a claim within 5 days of an incident by calling 1-905-581-1997 or by emailing us at info@ecocomfortcollection.com.
Return the product for inspection and validation as instructed.