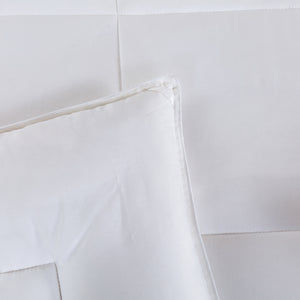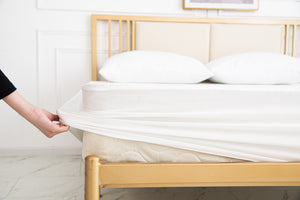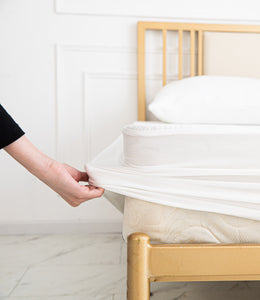 What's a Kamboo™ Pillow?
At EcoComfort Collection, we named our pillow Kamboo™ for two simple reasons–– Kapok and Bamboo. Our Kamboo™ pillows are made of a beautiful blend of materials to bring you the comfort, luxury, durability, and quality your sleep deserves.
How is this different from everything else I've seen? 
Kamboo™ pillows are your best source for an organic alternative pillow and are composed of unique materials that are guaranteed to bring you the most relaxing sleep ever! We use a state of the art, fully customizable design, to help you adjust your ideal firmness. Just open the inner case and add or remove as much filling as you need.
What is in it for me?
Our Pillows will provide you with your best night sleep ever! If by any chance you are not satisfied with our pillows or other bedding products we got you covered with our 60-Night Trial. If you have any defects within 10 years from the date of purchase we got you covered with our EcoComfort 10-Year Warranty.
How do I know this is real?
At EcoComfort Collection, we have been in business since May 2014. For 7-years we have been continuously innovating and introducing more and new eco-friendly bedding lines. We are currently supplying over 500 retailers across Canada with our products.
What's holding me back?
We understand that you have tried many different pillows in the past, and have experienced poor customer service with other providers. With EcoComfort Collection, we've got you covered with our impeccable customer support team. We understand that it takes 30-days for your body to get adjusted to your new pillows and other bedding products. We added another 30-days just to make sure you are fully in love with your pillows. You have 60-days to decide whether you love your EcoComfort Collection bedding product or not!
Why now?
A good night's sleep is vital for every human being to survive. On average, a person sleeps for 8 hours a day or one third of their life. If you value your sleep, make sure to try out one of our pillows, and believe me, you'll be very impressed. Sounds fair enough? 
Why should I trust you? 
We supply over 500 retail chains across Canada, sell online and have supplied over 150,000 + households with our Kamboo™ Pillows and other bedding products such as our mattress protectors and pillow protectors. We have plenty of screenshots of testimonials and reviews on our social media and our website. Check it out here
How does it work?
All of our pillows have a customizable feature, see illustration image below. Our mattress protectors cover mattresses up to 18 inches thick. Our pillow protectors are made to perfection matching the standard pillow dimensions (20"x26", 20"x30" & 20"x36").
How can I get started?
Make a purchase by selecting the product of interest from our product page or contact us for more information for customer support! 
What do I have to lose?
You have nothing to lose! Take advantage of our 60-Night Trial and 10-Year Warranty! 
What should I do next?
Claim your Kamboo™ Pillow, Pillow Protector or Mattress Protector today!